Love is a pretty big deal. It's what makes babies and poetry, books and songs. So it deserves its own day of celebration. But it isn't always champagne, hearts and flowers. Whether you're in love, out of love, or suffering the miseries of unrequited love, I hope you won't be getting any of these today.
Love is blind (but likes a good lunch):
Aaah, cute furry animals (that stink and scratch and bite):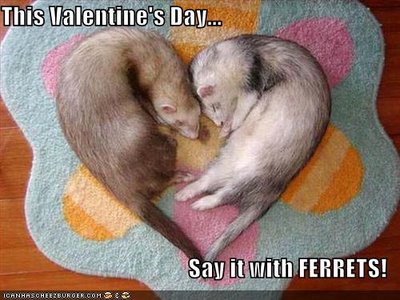 'Vinegar Valentines' for those you love to hate:
Or go a step further to creep your Valentine out, and threaten to kill yourself...
... or give up stalking them
Love makes people do silly things - like having an Argos tattoo on your leg:
The language of love can be inexplicably corny:
and poetic:
But nothing says "I love you" more than shaving your body hair into heart shapes:
Or buying your lover some fancy pants:
And if you thought those were tasteless...
Finally, for your favourite misogynist:
XXX